Just a few reminders: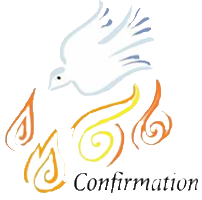 1) Please KEEP the REGISTRATION FORM until you can meet with me before Feb. 9, 2021

2) Call me (719-544-1886) here at the parish office beginning January 5, 2021. I am in the office TUESDAY-THURSDAY from 8 a.m. to 12 p.m. This is when we can set up a time for to visit, hand in registration form and pay your feel of $50.00.
You need to bring an attached copy of YOUR BAPTISM and FIRST COMMUNION. If you haven't made your first communion, we can prepare you for this Sacrament along with your Confirmation.

3) How the classes will be held, I don't know yet, but we can decide on those when you call me in January.

4) If you were NOT BAPTIZED here at St. Joseph, YOU NEED TO HAND IN ONE WITH YOUR REGISTRATION. For those of you who were baptized at St. Joseph's, we will look up that information, provided you know the Date of your Baptism.

5) Do NOT fill out the section on the Confirmation form called: SPONSOR INFORMATION or the CONFIRMATION NAME. I need to give you more information on this when I visit with you.