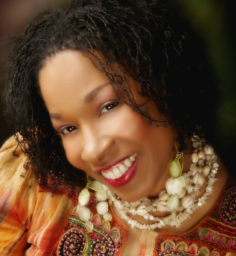 Val Jansen
The Diocesan Council of Catholic Women held it's 77th Annual Convention on Saturday, Sept. 21, 2019 (the last one prior to the COVID pandemic that swept the nation in 2020). The event was held at the Fr. Charles J. Murray Parish Hall at St. Joseph's Catholic Church in Blende, CO. "Created, Transformed, sent and Empowered by God's Love," was this year's convention theme.
ValLimar Jansen, a highly regarded singer and cantro was the guest speaker.. A morning mass was held with Fr. Henry Wertin and Deacon Frank Arellano presiding. The day long event included praise and worship, lunch, two appearances by ValLimar Jansen and a banquet dinner. A slient auction was also held..
About the Featured Speaker:
Blessed with an extraordinary voice, ValLimar Jansen is a highly regarded singer, cantor and recording artist. She is also a college professor, a leader of worship and prayer and a workshop presenter at conferences across the United States.
Known especially for her work with gospel, contemporary Christian and gospel-jazz styles, she sings a wide range of music, including spirituals and traditional, organ-based choral music. In 2005 she released her first solo collection, You Gotta Move. Other recent projects include her stirring, gospel-style rendition of Jaime Cortez's classic "Rain Down" on the Live It! two-CD compilation; and lead and background vocals on Clothed in Love, Tom Kendzia's collection of spirituals and gospel-style music for the liturgy.
ValLimar composes all her music with the help of her husband, Frank. They live in California and have three children..