Pueblo County educator gets national award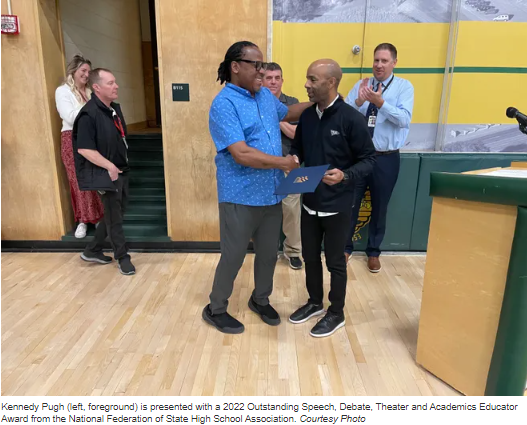 by James Bartolo
Pueblo Chieftain
May 9, 2022
Pueblo County high school educator Kennedy Pugh has been named Colorado's 2022 Outstanding Speech, Debate, Theater and Academics Educator by the National Federation of State High School Associations.
The multi-talented Pugh is the school's speech and debate coach, artist in residence and teaching artist coordinator. He was selected for the award for demonstrating "outstanding service and unselfish devotion to interscholastic speech, debate, theatre and academics programs," the NFHS said.
"We never do it alone," Pugh said in a statement. "I am honored to receive this recognition. It has been impressive what my colleagues at The Arts Academy at Pueblo County High School continue to do. I am thankful for the community of Pueblo that has supported my efforts to enhance the creative industry in our community."