It is with great sadness that the family of Most Reverend Bishop Arthur Nicolas Tafoya and the Diocese of Pueblo announce his passing on Saturday, March 24, 2018, at the age of 85. Bishop Tafoya was born in 1933, in Alameda, N.M. He attended Alameda Elementary School, St. Mary Catholic School, Immaculate Heart of Mary Seminary in Santa Fe and Conception Seminary in Missouri. He was ordained to the priesthood on May 12, 1962, at the St. Francis Cathedral in Santa Fe, N.M.
He served in the parishes of Holy Rosary and San Jose Catholic Churches in Albuquerque, N.M., and St. Anthony in Dixon, N.M., and was Rector of the Immaculate Heart of Mary Seminary in Santa Fe, as well as vicar general to the late Archbishop Robert Sanchez. On Sept. 10, 1980, he was ordained to episcopacy as bishop of the Diocese of Pueblo, Colo., after being bestowed the honor by St. John Paul II. Bishop Tafoya faithfully served the Diocese of Pueblo for 29 years.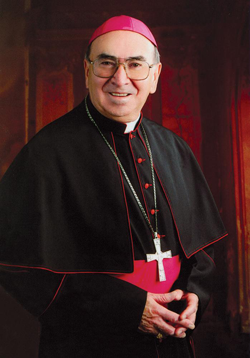 Bishop Arthur N TafoyaDuring his years as bishop, he traveled the plains and mountains of Southern Colorado in adverse weather, bringing the message of faith and hope to everyone. He was instrumental in renovating the Cathedral of the Sacred Heart, dedicated a number of new churches and religious institutions, and brought the cloistered Poor Clares to Pueblo to pray for the needs of the diocese. Bishop Tafoya also consolidated the diocesan offices to the former Cathedral school and sold the Bishop's mansion to move into a small two-bedroom house, formerly a rectory, Downtown.
In 1982, he received an honorary Doctorate of Humanities degree from Regis College in Denver. Bishop Tafoya also served the U.S. Bishops as chairman of the Latin America Committee, chairman for the Human Development committee and served on the American Board of Catholic Admissions. He will also be remembered for establishing the permanent diaconate for the diocese. His last project was the building of a new diocesan pastoral center on land he acquired close to the Historic Arkansas Riverwalk of Pueblo. The building was completed shortly before Bishop Tafoya retired.
Upon his retirement, he returned to his roots in Alameda/Albuquerque, N.M., where he assisted numerous Catholic parishes of the Archdiocese of Santa Fe, especially his home parish of Nativity of the Blessed Virgin Mary. Bishop Tafoya was preceded in death by his parents, Nicolas and Rosita Tafoya; step-mother, Alice Tafoya; brothers, Herman and Leonard; niece, Diana Anaya; great-nephew, Thomas Wessgar; grandparents, Manuel and Francisquita Tafoya and Frank and Juanita Armijo; and step-sister, Lorraine Herrera.
Survived by siblings, Rosalie Sandoval (Daniel), Larry (Viola), Priscilla Howard and Andrew (Kathyrn); sister-in-law, Theresa; stepsisters, Arlene Santillanes, Geraldine Lee and Lydia Gonzales; 15 nieces and nephews, and numerous great-nieces and nephews; uncle, Arcenio Montoya; aunt, Theresa Armijo; and many other relatives, as well as a multitude of friends throughout Colorado and New Mexico. During his illness, Bishop Tafoya was lovingly cared for by his nephew, Daniel "Danny Boy" Sandoval. He completed his mission as shepherd of the people on Earth and joined his loving Father in heaven.
Viewing, 4 to 7 p.m. today, in the Montgomery & Steward Chapel. Viewing, 3 to 7 p.m., April 8 and April 9, at Sacred Heart Cathedral. Vigil, 7 p.m., April 9, at Sacred Heart Cathedral, 414 W. 11th, Pueblo. Funeral Mass, 10 a.m., April 10, at Memorial Hall, 1 City Hall Place. Live broadcast of the funeral Mass. Following the Mass, entombment at Roselawn Cemetery. Public reception following the entombment at St. Joseph Hall, 1145 S. Aspen Road. In lieu of flowers, memorial contributions may be made in Bishop Tafoya's name to Diocese of Pueblo Catholic Charities, 429 W. 10th St., Pueblo, CO 81003. Online condolences, Montgomerysteward.com
Funeral notice courtesy of Montgomery & Steward Funeral Home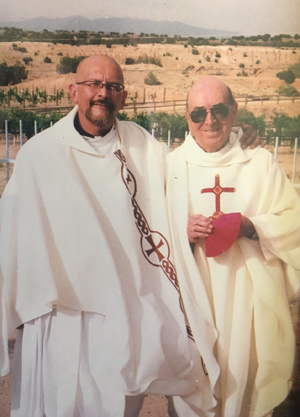 Bishop Arthur Tafoya and Fr. Joseph Vigil pose for a picture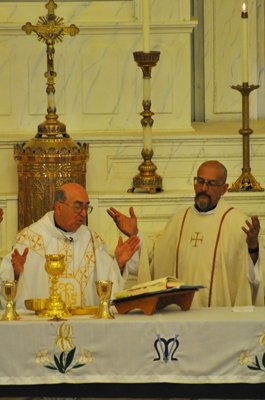 Bishop Arthur Tafoya and Fr. Joseph Vigil celebrate mass together