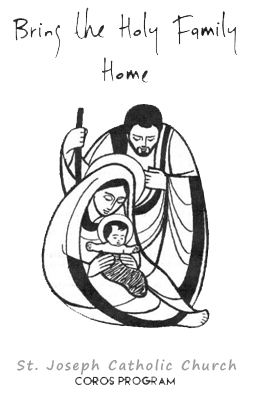 What does it mean to be consecrated to the Holy Family, Jesus, Mary and Joseph?
To make each family a holy family and each home a new Nazareth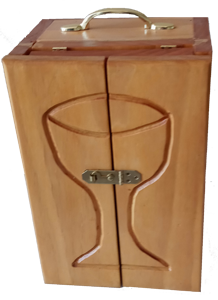 The Church has always shown concern for the family. She proposes the Holy Family as the prototype for all Christian families as well as the living Gospel of all the values that today's families are to live and proclaim. To be consecrated to the Holy Family of Nazareth, members are committed in their efforts to make the home a place of sanctification and a center of fellowship and service after the example of the Holy Family of Nazareth. Members of the Holy Family are committed to spreading the Gospel of Nazareth in the midst of the human society, by prayer, by adopting the spirituality of the Holy Family, and by proclaiming through word and deed its values. Thus, they come to form a family of disciples, witnesses and apostles of the Holy Family, Jesus, Mary and Joseph.
At St. Joseph's Parish we are inviting parishioners of any household to consecrate themselves to the Holy Family. Each week the parishioner will take the sanctuary of the Holy Family into their homes for one week of daily prayer. At the end of your week, you will bring back the sanctuary to the church for the next family.
This is open to all parish members. Any individual can pray each day by yourself or you can invite family members or friends to join you in prayer.
This is a good opportunity for families to teach their children how to pray and the value of prayer in their lives using the Holy Family as examples of how to live with God.
We have a booklet of possible prayers that will come with the sanctuary to help those who would like some ideas as they develop their personal prayers.
If you would like to sign up for this program, call the parish office at (719) 544-1886.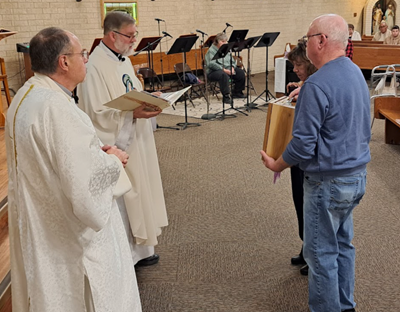 Fr. Steve says prayer for parishioners who receive the Holy Family at a recent mass at St. Joseph's.

Prayer List
Click on the link to view each Prayer listed below or view the full list HERE
Prayer to St. Joseph
This prayer, from a 19th-century French prayer book, has been recited by Pope Francis every day for more than 40 years.
All the prayers above are copyrighted and the property of:

This program is being conducted by the St. Joseph Catholic Church Knights of Columbus 9456