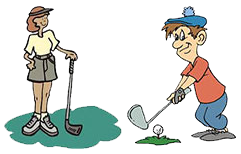 St. Joseph Catholic Church held its second annual fundraising golf tournament on Sat., May 20, 2023. The event was held on a cool, cloudy day at the Holydot Golf Course in Colorado City.
A total of 208 golfers playing in teams of four teed off after a morning prayer from Fr. Steveh on the putting greens. All were treated to lunch and prizes. The fundraiser was for improving the existing softball fields around the parish grounds.
Parishioner Patsy Cresswell won the 50/50 drawing and donated all her winnings back to the church.
Some tidbits from the 2023 tournament and top three finishing teams
Longest Putt: Hole #11 (women): Patsy Cresswell
Longest Putt: Hole #3 (men): Tom Pineda
Longest Drive: Hole #4 (women): Kaylee Delao
Longest Drive: Hole #17 (men): Brody Quade
1st place: (56)
F. Mattarocci
J. Wristen
T. Vakasko
B. Crites
2nd place: (59)
S. Millberger
C. Hernandez
T. Alguien
P. Blasi
3rd place: (61)
L. Jiron
D. Vigil
S. Contreras
M. Garcia
St. Joseph 2023 Golf tournament Donors:
Angelus Chapel
Arenta Credit Union
Blazin' Bagels (Bridget Solis)
EnvroServe & Savage Company
Knights of Columbus (Brandon Nelson)
Minnequa Works Federal Credit Union
Phoenix Rising Group
Listed below are the hole sponsors of the event and those who donated in behalf of those who passed away.
In memory of:
Mike, Don & Dolores English
Jerry & Patrick Rodriques
Frank & Emily Mauro
Jacobo & Eulogia Martinez
Sammers Rodriques
John Ray Martinez
Hole Sponsors
Andenucio Family
Arc Valley Construction
ATP Construction
Avis RV & Boat Storage
Azteca Apartments
Dennis & Darlene Cuchiara
K.R. Swerdferger Construction
Mesa Self Storage
SCIA Health Insurance (Sean Casados)
The Bank of Colorado
Special Thank You for Helping!
Mike Reilly (Holydot Golf Course Mgr.)
Becky Garica (Holydot Restaurant)
Blazin Bagels
Fr. Steve Murray
Brandon Nelson
Joe Andenucio
Melissa Stecklein
Bob & Liz Chapman
Maverick & Carrie Wills
Chuck Granato & Keg 1
Ed & Terri Pacheco
Daryl Vigil
Frank & Janet Molinaro
Elaine Gardner
Diana Alvarado
John Barker, Jr.
Below are pictures of the golf fundraiser.