He led the Diocese of Pueblo for nearly 30 years
BY ANTHONY A. MESTAS | The Pueblo Chieftain | MARCH. 25, 2018
In 1950, just before entering the Immaculate Heart of Mary Seminary in Santa Fe, N.M., at the age of 17, Arthur N. Tafoya saw his future in the Catholic Church.
Tafoya would touch the lives of thousands of people after becoming a Catholic priest in 1962, later serving 29 years as the bishop of the Diocese of Pueblo.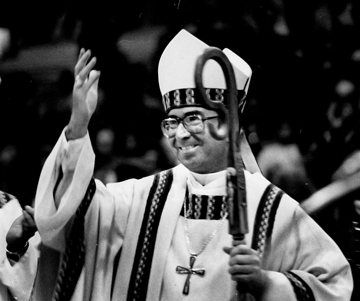 Bishop Arthur Tafoya greets the crowd following his consecration ceremony in 1980 (File, The Pueblo Chieftain)
Tafoya, the shepherd of the faithful in Pueblo and surrounding counties in the sprawling diocese, died early Saturday. He was 85. The bishop was in hospice care at his home in Albuquerque, N.M.
He was remembered Saturday by some who were close to him as a generous, loving man who loved to communicate with God through hours upon hours of prayer.
"He was a very kind, humble man. But I think everybody knew that," said Tafoya's friend, the Rev. Nathaniel Fosage, of Ouray.
"I knew him when he was still in the seminary. He was a deacon in 1961-62. We had become friends," Fosage said. "He felt very blessed just to be called a priest. He never dreamt of being a bishop because he was very, very humble."
Fosage said Tafoya enjoyed praying, often praying within the last year when the two talked on the phone./p>
Tafoya replaced the late Bishop Charles Buswell, who was ordained bishop in 1959.
At the occasion of his introduction to the clergy of Southern Colorado on July 2, 1980, Tafoya said, "I promise to expend myself as totally as possible in fulfilling the challenging responsibilities that accompany this new position.
"I wish only to be a servant shepherd. I sincerely feel that I am being called to serve among friends whom I can truly call my own. Be assured that I will totally dedicate myself in continuing the excellent work of Bishop Buswell and his co-ministers in establishing the Kingdom of Christ among us."
The Rev. Pat Valdez, a Theatine priest in Cortez at Montelores Catholic Community, said Bishop Tafoya touched the lives of so many people and truly was a shepherd of his flock.
"He always was there, willing to help us out, to give us good advice," said Valdez. "He was always wonderful and friendly with the people.
"He was here two years ago to ordain one of our men. It was the last time he came to the parish. They all have such good memories of him."
Tafoya, who was noted for having boundless zeal but a soft-spoken manner, exceeded the expectations of many in the diocese and became synonymous with his promise.
In his 29 years leading a diocese of greatly mixed ethnic strains, the compassionate but always firm bishop ordained 20 priests and started the diaconate program for the diocese.
Deacon Jake Arellano, Tafoya's assistant for four years, said Tafoya was a strong leader.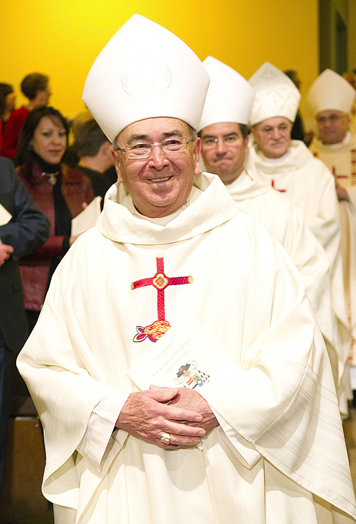 Former Pueblo Bishop Arthur Tafoya smiles as he enters Memorial Hall in February, 2014 (Chieftain Photo/File - John Jaques)
"He loved the Diocese of Pueblo. Every time I visited him, he was praying for them. He just was such an outgoing person that was open to everybody," said Arellano, of Mount Carmel Parish.
Barbara Duff, a former diocesan business director and a friend to Tafoya, said he will be missed.
"He was our bishop and our boss, but he was a bishop of the people," said Duff. "He loved the community. That was his gift to the diocese, just being with his people.
"I saw him on Tuesday and Wednesday this week, and the last thing he told me was to tell his bishops that he loved them. He was a wonderful boss and a beautiful bishop."
Tafoya attended the Minor Seminary from 1950-56, entered St. Thomas Seminary in Conception, Mo., then completed his studies for the priesthood in 1962. He was ordained on May 12, 1962, at St. Francis Cathedral in Santa Fe, N.M.
Born on March 2, 1933, in the town of Alameda, N.M., Tafoya's first assignment was assistant pastor at Holy Rosary Parish in Albuquerque. In 1965, he became pastor of a poor parish in northern New Mexico, Dixon and Velarde.
Five years later, he took the pastorate of a barrio church in Albuquerque called San Jose. After eight years at San Jose, Tafoya was appointed rector at Immaculate Heart of Mary Seminary in Santa Fe, at which time he also served as vicar general of the Archdiocese of Santa Fe.
At the age of 47, Tafoya was ordained the third bishop of the Catholic Diocese of Pueblo on Sept. 10, 1980, by Archbishop James Casey, of Denver, assisted by Archbishop Robert Sanchez, of Santa Fe, and Buswell. The ceremony was at Massari Gymnasium on the Belmont Campus of the then-University of Southern Colorado, now known as Colorado State University-Pueblo.
On the day that Tafoya's appointment was officially announced in Pueblo, his former superior, Archbishop Sanchez of Santa Fe, said: "It seems fitting that a priest of the Archdiocese of Santa Fe would be chosen to shepherd the faithful in the Diocese of Pueblo since so many of the Catholic population in Southern Colorado were originally born and raised in Northern New Mexico."
The churches rebuilt during his tenure were St. Francis/Our Lady of Guadalupe in Lamar, St. Joseph and Immaculate Heart of Mary in Grand Junction, St. Michael in Canon City, Our Lady of the Assumption in Westcliffe and the Shrine of St. Therese in Pueblo. The new churches built under Bishop Tafoya were John Paul II in Pagosa Springs and St. Paul the Apostle in Pueblo West. Also, the Cathedral of the Sacred Heart in Pueblo was remodeled under his supervision.
Tafoya established the Diocesan Pastoral Council, an advisory, consultative body to the bishop. He consolidated the Chancery and Pastoral Center to be under one building at 1001 N. Grand in Pueblo before the construction of a new building in its current location at 101 N. Greenwood St. near the Historic Arkansas Riverwalk of Pueblo.
Tafoya began the Diocese of Pueblo Catholic Foundation, the annual Fiesta Day Mass celebration in conjunction with the Colorado State Fair Fiesta Day, the annual pilgrimage to Chimayo, N.M., annual Vocations Walk in Antonito and the annual Rosary Sunday celebration.
Throughout his career, Tafoya made annual Christmas Eve visits to inmates behind the concrete walls of the Pueblo County jail. He also spoke out various times against abortion and was a champions of Hispanic ministry.
Tafoya also weathered some difficulties during his time.
The parishes that were closed during Tafoya's time as bishop were St. Anthony, St. Patrick and Our Lady of the Assumption. There also was a "chapel" (Our Lady of Guadalupe) that was drawn down.
Tafoya also had to deal with the sexual abuse scandal that hit the Catholic Church worldwide, as several lawsuits were brought against the Pueblo diocese for allegations that several local clergy had assaulted local citizens.
The biggest cases involved more than 20 students at the former Roncalli High School, a Pueblo Catholic all-boys school that closed in 1971. The diocese, along with the St. Louis-based Marianists order that ran the school, settled lawsuits totaling more than $2 million after the former students said that a religious brother at the school had knocked them out with chloroform and abused them under the pretext of conducting testing for an advanced college degree.
Tafoya was widely praised for his compassion toward the plaintiffs, for pushing for a resolution to the cases and for offering counseling for the former students.
Montgomery & Steward Funeral Directors is handling the arrangements.
This email address is being protected from spambots. You need JavaScript enabled to view it.